How Can I Get More Likes On My Instagram Post?
Instagram is a mobile application whose principle is quite simple in fact: the sharing of photos and short videos. Many filters make it possible to embellish your creations before sharing them which makes its use more fun. There is also the possibility to create image compositions, hyper lapses or animated Gifs type animations using applications such as Boomerang, Layout, and Hyperlapse (which belong to Instagram).

In short, Instagram gives pride of place to the creativity of its users, which makes it a success. Like on Facebook, you can follow other users, chat, like their photos and use hashtags. Instagram is a network that reaches global and local users according to their goals and target.

Instagram in Numbers (Background Info)
Instagram belongs to Facebook since 2012. The 2 networks have since been closely linked. The photos on Instagram can automatically be displayed on your Facebook account and the creation of sponsored post (advertising) is now possible via the Facebook ads system.
This social network has more than 500 million active users worldwide. The majority of its users are young people between 16 and 34 years old:
41% of users are between 16 and 24 years old
35% of users are between 25 and 34 years old
95 million photos/videos posted daily around the world
4.2 Billion likes a day
If you are trying to reach a wide audience then the above data shows that Instagram could be the platform to do it on. The potential target for brands is therefore young adults. Moreover, in this age group, there is a greater engagement of users on Instagram compared to Facebook. These are just a few of the statistics and data that could mean that Instagram is useful for your own business or brand. In fact, many companies are already finding it very beneficial to be on Instagram.
What Are The Benefits of Instagram?
Depending on your goals, using the Instagram social network will be beneficial for:
Redirect the audience to your website
Increase the conversion rate on your site (online sales)
Increase engagement on your brand (post and sharing)
Improve the visibility of your brand
Increase the number of views of your videos
Increase the number of installations of your application

You'll understand that Instagram is a useful network for brands and fun for its subscribers. To succeed your communication on this platform you will have to follow these tipss and especially to spend the time to gain in effectiveness. Instagram is a tool for professionals: you can have reliable statistics and manage multiple accounts in one.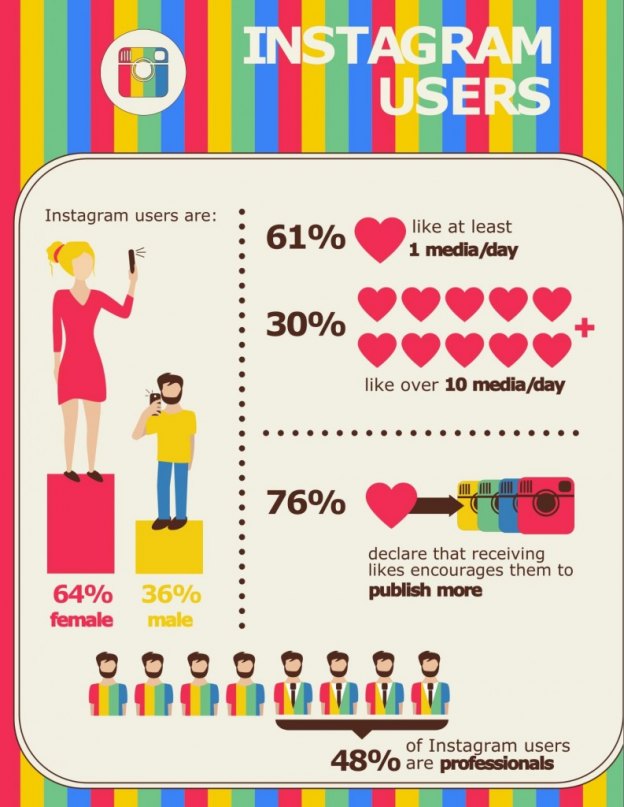 What About Instagram For Businesses and Brands?

Instagram has established itself as the must-have social network in just six years of existence. Privileged place of "influencers" and known mainly for its photo filters, it currently has 1 billion users, almost 3 times more than Twitter

With more than 30 billion photos shared (nearly 95 million photos and videos posted each day), the application is placed on the podium of the 4 most used social networks after Facebook, Youtube, and Whatsapp.

We can then wonder how to make its place in this huge ocean?

When reading the statistics, there is something to have your head spinning! These are larger communities than countries that find themselves on the application.

What's the use of being there when I already have my blog?

This is what we will see in this article. But already assume that if so many people use the application, there is a reason
Reasons why you should use Instagram and have more likes:
Instagram is one of the most influential social networks of the moment. Brands are becoming more active on Instagram. It is, therefore, crucial to stand out from the competition and include this network in your overall strategy. Acquired by Facebook in 2012, the application has not stopped to improve: opening advertising to advertisers, displaying content according to an algorithm, appearance of analysis tools.

Instagram offers many opportunities to improve your brand awareness and help you feed your prospects with content different from those you promote by email, on your web pages or other social networks.


1. Reach your targets through accounts of individuals and professionals

There are more than 2 million active brands every month on Instagram (on Facebook they are 6 million). According to the social network, the publication frequency is 11 to 20 posts per month. In terms of engagement, about half of the users follow brands on Instagram. But why does it work so well?

Because private accounts and corporate accounts mingle happily on the platform. Your posts will be viewed and visible by both types of accounts. On the face of it, the topics you are interested in are relevant to the companies you are targeting, as well as their employees. Instagram must be thought of as a social network in person to person. What better way to gain notoriety and generate qualified leads?

In addition, Instagram humanizes your brand. When people see your photos or videos, they want to see inspiring visuals about your latest products, behind the scenes of the events you are involved in, the life in your company ... In short, a lot of information that you do not communicate not usually and that can make a big difference.

2. Create your own hashtags and enjoy user-generated content

Your content is made visible by the hashtags you choose. An Instagram post that contains at least one hashtag generates a lot more engagement than posts that have none. Of course, you have to choose relevant keywords. The more quality your content, the more they will be boosted on the platform.

The majority of the content is produced by Internet users. This content is obtained at a reduced cost and can help you attract or convert prospects. A hashtag containing the name of your company allows you to set up a curation strategy. So you can share quality content created by satisfied customers. It is a guarantee of quality for the prospects you want to seduce.

3. Use Facebook user data to distribute your ads

Instagram revenue from mobile ads is expected to reach nearly $ 7 million in 2018. This is the number of advertisers who use the platform to reach their targets. You certainly think that Instagram ads are the preserve of BtoC companies. In reality, because of the number of users, it is a fairly competitive market for them.

Despite the newer appearance of the social network, Instagram ads generate more engagement than Facebook ads. Three modes of advertising are available: photographs, carousels, and videos. It's the video content that converts the most. The commitment rate is even stronger if the user is convinced in the first 30 seconds.

In addition, a big advantage of Instagram ads is that they have the same user information as Facebook. Convenient to target the business sector!

4. Enjoy the retargeting of Facebook

Maybe you have been advised in previous marketing campaigns, but there is a Facebook analysis tool that adds to your code: the Facebook Pixel. Nothing special: people who have visited your website are identified by the social network. If he is not fully mature to buy, maybe his answer will be different when he looks at his feet again. It's the power of retargeting.

With the latest custom audience updates on Facebook, you can create contact lists based on users who watched your Instagram videos, who interacted with your forms, or who responded to your posts. This is a great way to see which audience is sensitive to your social media communication.

You get all the information you need to guide your content strategy on Instagram, improve your brand awareness and generate qualified leads.

5. The added value of Instagram for your business

Instagram allows your business to become known to both private and public users. More than half of the active users who follow brands on Instagram say they have discovered a new product or service on the platform.

6. You create an original brand identity

On Instagram, you can embark your followers in the adventure that is your business. Ask yourself for which values you want to be known and which audience you target.

Be careful, that does not mean putting your logo on each post or doing promotions all-away!

Give your visuals the leg of your business. At first glance, we must be able to identify you, without having to check your logo. Clearly, you need a canvas that will allow you to post regularly interesting and impacting information.

This year, do not hesitate to post on Instagram Story. They have more than 300 million daily active users, much more than Snapchat. They can also allow you to send surveys to people who follow you. Even better, Instagram is currently testing a story-sharing feature, "program," a broadcast opportunity full of potential!

7. You develop your employer brand

Do you want to show the young talent that your business is a great place to work? Show them what your employees do in life, which they are passionate about. Let's be logical: seeing people simply sitting at desks is not very attractive.

Tip: Separate your company's Instagram account from the Instagram account dedicated to your recruitment. That's not bad for big companies like Visa or Dell.

8. You'll soon be able to link your Instagram content to product listings

An image is much more powerful than a text, an even more video. Instagram understood this well since it has developed an offer for e-commerce companies. In short: your content becomes clickable and take the user to a more detailed product page. From here you can take them to your site to finalize the sale.

The feature is not yet available in other countries. In a test on the United States last year, it should be deployed to other countries in late 2018. Pay attention to trends!
9. Buying Instagram Real Likes From Reliable Companies
It is recommned you buy instagram likes from realiable and trustworthy companies such as Vivalikes. They have been around for well over 5 years and the likes they sell are instant and from real account. You need to register on there website an add money into your panel. Once you have money added you can add any public Instagram post link and receive likes to your post within seconds.
Steps To Remember When Using Instagram?

1. To Know You

The only link insertion option on Instagram is in the Biography, at the top of the user account, under the profile picture. Only users with more than 10,000 subscribers will be able to access the "Swipe up" feature in the stories, which allows you to directly insert a link.

On this application, we are known otherwise: by "word of mouth" but above all by its content! It must be attractive, it must catch the eye and want to see more and subscribe. It's a bit of the dictatorship of beauty we grant you, but in the end, the principle is a bit the same as a blog as we explained in this article.

How to do it?

- Look after the quality of your posted content
- For the most creative, think about a nice " feed " that suits you. A feed is the overall aesthetic rendering of all your photos posted together.
- Do not neglect your description in your Biography: add hashtags related to your content, the link of your blog and a mini-bio to introduce you.
- Use hashtags related to your content, your community. You can also create new ones.
- Be regular, publish often and if possible every day.

2. To Have A Community

How do you create a community on Instagram?

- Look for users who have content that you like or that looks like yours and subscribe!
- Do not hesitate to like, to comment, to comment on the stories, to be reactive ... (The algorithm of Instagram makes sure to propose your contents which could please you according to what you like and to comment the most)
- As soon as a user subscribes to your profile, will you subscribe or comment on his?

You will see that at this rate, very quickly your community will be formed by itself.
Why?

It is sometimes difficult to glean new readers on his blog. Thanks to likes or comments, you can appear in the news feed of many users and thus acquire potential new future readers.
Interact and Offer Something Unique

Today we can post on Instagram:
- photos or videos on his profile.
- photo or video stories (with fun features like dynamic filters, music, GIFs, polls or questions). You can pin your favorites by themes to the front of your profile.
- lives that allow you to address your community live with a chat system with those who are connected.

Some of your subscribers will prefer to follow you only on Instagram if you offer different content from your blog.
It may even be that a new community, different from the one you can have on your blog, is created.

Stories make it possible to record short videos, to speak directly to its subscribers, to express all its creativity. With 150 million users making stories every day, the network is increasingly taking over Snapchat.
In summary, do not be afraid to try, (even if you miss, your stories will automatically fade after 24 hours), to dare, to reveal a little more, to communicate ...
4. Integrate Blog To Your Instagram

To integrate an Instagram post, go to Instagram. On the post that interests you, click on the three points located at the bottom right. A window will appear, select "Embed", then copy/paste the code into an HTML section within your article.
From your administration> Activity, connect the social networks you want on your Overblog to the right space. Click "Add" next to each proposed social network and let yourself be guided.
Click "Add" next to the network to import and allow Overblog. If you are not logged in to the network account you will be asked to sign in. Your user profile (and Facebook page if you possibly manage) is offered to you, choose the user account whose contents you want to import. A new window opens, offering you to retrieve the last 50, 40, 30, 10 or 0 items of the selected network. Choose the number of items you want to import for your first connection.

By default, Overblog retrieves all items from the selected network. Access the import parameters with the button at the bottom of the "Parameterize" window. Then choose the content you want to import (content to recover) and the contents you want to ignore (content to ignore). If you want to import only the contents with a particular # (hashtag), put all other criteria in the "ignore" column and customize your hashtag (default #OB). Only content with your personalized # hashtag will be imported to your Overblog.
How Do You Gain More Likes On Your Instagram Post ?

1. Post Pictures Regularly
There 's no photo ... or rather if in fact. As for any social network, the rule of thumb is to be active as regularly as you can, otherwise, it does not work. You must post at least 2 to 3 times a week at least and 2 times a day at most. It will depend on your time and content to broadcast of course. If you are an occasional Instagram, it will be difficult to build a community.

2. Use Hashtags
It is an essential element to make known your account. Indeed, the hashtags you will use will redirect users to your images using the internal search to the social network. For example, an ice cream brand can use hashtags #glace #sorbet #cremeglacee #gourmand, etc. to attract followers and increase their visibility. Hashtags must be related to your business or location.
In addition, Instagram allows you to know the most popular hashtags, enjoy and use them!

3. Communicate with Your Community
Like Facebook, it's a good idea to be responsive and react to comments. You will be closer to your community and give a good image. These exchanges will serve you to improve your account and will certainly give you new ideas. To communicate well on Instagram, you have several possibilities:
offer a great description on your photos (text + hashtags + quote + emoticons)
comment posts related to your activity
repost photos of your products taken by users
answer the questions
ask questions to start a conversation
give tips or useful information about your products
tag friends
like the comments …

4. Follow The Right Accounts

It is strongly advised to follow the most influential accounts in your sector for several reasons: you can hope that some of these accounts follow you in return on the one hand, and on the other hand follow accounts established with a large community will be a good source of inspiration to make your account attractive and attractive. Finding this kind of account is a task made easy by the use of the internal search engine at Instagram.

5. Love The Pictures Of Others

Liker photos from other accounts can also bring you subscriptions from time to time. Choose through the search engine a hashtag related to your activity to discover the photos of this hashtag, then just love some photos in the list. On the other hand, it shows that you are active regularly on the network. It's always good!

6. Quote People

In the comment section of your photo, it is possible to quote other people using the @ followed by the name of the account. By quoting a more famous account, you can hope that it relays your photo and gives you access to his community. You will then reach more people! In 2014, a study showed that mentioning another account in its general description could generate over twice the additional commitments. It is also possible to mention people in a picture but be careful because it may not please people.

7. Link Your Instagram Account To Facebook
Everything is in the title ... this way you will double the numbers of post photo (1 photo on Instagram will be taken on Facebook) and thus increase the chances of being seen and followed. Your Facebook followers will be led to follow you also on Instagram.
8. Using The Ad
A little pay boost that can bring you in no time good visibility and subscribers. Sponsored posts are a good way to get your account off the ground by properly targeting your audience. Advertising can redirect to your site or reach nearby users (good idea for a business). Use with moderation nonetheless to not be labeled "account to the pub".

9. Be Creative
One last tip and it is for me the most important: have the creative attitude! Instagram is beautiful and fun pictures and videos. The essential condition is to offer quality and fun content in relation to your activity and your values. You can follow trends and find inspiration using search with hashtags. Do not be afraid to be original to stand out. This will help you and bring visibility, subscriptions, and interactions to your account. Appointment attractive and unique to stand out.
Tips To Help You Gain More Followers Organically?
One of the most prominent social networks. This growing enthusiasm around this tool attracts companies, who see it as an effective marketing tool. The choice of hashtags, the publication schedules and the use of other channels are three fundamental aspects that will increase your visibility on Instagram.

1. Your Choice Of Hashtags
The choice of hashtags is decisive. Hashtags allow us to connect to a community of users who share similar interests to ours and thus show your publications with greater ease.
Choosing these hashtags is key to targeting your target and increasing your visibility. For this, the use of tools such as TagsForlikes may prove to be relevant. This application allows knowing the different themes organized by categories and subgroups. Identifying, knowing, and using the specific hashtags of competitors is a good way to target your target. If using hashtags can increase its visibility, do not fall into abuse. It is important to focus on quality over quantity and not to exceed thirty hashtags.

Indeed, we must not resort to themes that have no relation to the theme of your publications. This would not be beneficial since your positioning will not be the desired one. The same for the returned image, which will not be the one you wanted. In addition, an excess of hashtags can be considered spam.

We must also take into account the " blacklist of hashtags ". This list contains all the hashtags that Instagram regards as spam. This means that Instagram blocks search results.

Many of these labels have sexual connotations, but others are really popular like the word "photography", "iPhone" or "popular". These three hashtags are used by a large number of users without knowing that they are banned. It is important to take knowledge of this information which can affect the visibility of your account.

Make sure to use other channels aside from Instagram
In order to bring your community together, it's possible to use your own spaces to advertise your Instagram account.

Make known in your other social networks to capture fans already existing, or to new users who visit your other social networks, web or blog.

For this, it is necessary to add the social buttons or check that they are visible in your website or blog so that users can access all your networks easily.


2. Post On A Schedule

Instagram is known to be one of the most popular applications and where the update of the publications is permanent.

However, it is very interesting to publish your photos when the majority of your followers are connected so that the scope of your publications is greater and thus obtain greater visibility. According to various studies, the optimum publication time is between 18:00 and midnight.

It's a good idea to know the specifics of the audience, to research and analyze the times in which your target is more sensitive to being touched. Iconosquare is an application that allows knowing this data.

Instagram is a tool that can be counted on to extend its reach, but care must be taken to use the right techniques and tools. In order to maximize its potential and not get lost in co
Earning Instagram followers is a challenge for many brands. Unfortunately, the number of followers is an important indicator of the potential of a brand, like the number of likes. That said, in reality, quality always prevails over quantity.

Faced with this situation, many brands that have not managed to achieve success on Instagram have gone on the dark side, choosing quick and cheap solutions to increase their number of followers: do you believe that it can work?

Fault. Before falling into ease, be aware that buying followers for Instagram will lose all credibility. That's not all: it will seriously damage your strategies.

3. The Interest In Creating Your Own Databases

On the other hand, gathering information and data from a trusted source will inspire you to make better decisions and achieve better results. It's proven. E-mail marketing strategies are a good example of how to have a real influence through your own databases since buying them has no interest.

The same is true of social networks: the purchase of information has the risk of attracting false data. You will grope with useless bots for your business. In addition to thwarting your strategies, stalling your stats, and making things more complex, you're likely to tarnish your relationship with your audience. Earning Instagram followers is a challenge for many brands. Unfortunately, the number of followers is an important indicator of the potential of a brand, like the number of likes. That said, in reality, quality always prevails over quantity.

Faced with this situation, many brands that have not managed to achieve success on Instagram have gone on the dark side, choosing quick and cheap solutions to increase their number of followers: do you believe that it can work?

Fault. Before falling into ease, be aware that buying followers for Instagram will lose all credibility. That's not all: it will seriously damage your strategies.

The main Instagram users know this app on their fingertips. They are unaware of any trick to cheat and watch the marks closely. Do you really want to take the risk of losing a great opportunity to generate commitment? Consider that the majority of this audience is Millennials, and you know how hard it is to impress them. Do you think you can take that risk?

4. Optimize Your Profile

Strangely, many brands do not fill every field in their profile. It is essential to establish links with his community because it is a showcase.

How would you have more followers if they can not even recognize you at first glance? Your profile should quickly identify the brand. Ideally, use your name, your logo in the main image, and a brief description.

Do not forget to add a link as this can be very useful. Depending on the strategy you set up on Instagram, you can add a link to your homepage or a specific landing page.
5. Take Advantage Of Other Channels To Gain Visibility

To attract Instagram followers, users must first know you. To do this, instead of waiting for them, you can do several things to make yourself known.

You can publish on the other social networks that you already have space with loyal followers. Just like Sony Mobile, who spoke to his Facebook community to announce his new profile on Instagram based on a specific product: this gave the public a reason to follow his profile.

If you choose this strategy, keep in mind all the details that come into play. Look closely at the example image: the URL is customized. Do it too to rate the traffic on your Instagram page from other social networks.

There is also a button to access your profile on your website and in all your e-mail communications. Thus, the chances of finding you will be greater and you will have more followers on Instagram.
Create Quality Content
Fuzzy or useless photographs are irrelevant. In addition, other settings influence your content strategy.
There's no magic formula for establishing a publication frequency on Instagram. A report from Simply Measured notes, however, that 75% of the best brands publish at least once a week.

Keep in mind that you need to make sure your content appears on the "Discover" button of Instagram users. Only then can they find you if they do not know you, and you will have more opportunities to touch them. You must also think about your followers: they follow you because they want to hear from you, so do not disappoint them with a poor profile.

If you think that lack of time can trick you, Instagram has also thought about it. You can save your publications as drafts to save time. Otherwise, apps like Hootsuite will help you program them.

7. Use Hashtags

When used correctly, you will have a reputation a certain topic that you are interested in. You may also be able to make your brands own hashtags to make it easier for people to follow you.

A good hashtag strategy may vary in several ways:

1. Create a unique hashtag to become different or genuine
2. Use the most common ones  ;
3. Follow the trend and enjoy the hashtags in vogue  ;
4. Use controversy to get attention.
Also, do not forget to take advantage of Instagram Location Stories and Hashtag Stories to improve your visibility.

8. Do Not Neglect Subtitles and Localization

Although this is a completely visual platform, the subtitles of each publication are also used to help you get followers on Instagram. So there are some tips that you can take into account:

Ask questions. This will invite your subscribers to leave comments. You will gain visibility.
Tag users. You can tag other platform users that appear in your photos. Either in the subtitle or using the tagging feature of the application. In fact, as Simply Measured points out, publications that mention other users in their title have an average of 37% more engagement.

Tag your site. If your business has a physical store or offices, be sure to include this location on your photos and encourage your subscribers to do the same. This will help you expose your brand to more people.

Get More Instagram Likes with Contests

Draws, games, contests ... Everything is good to take! It's a great way to connect with your subscribers and increase engagement. Instagram competitions can be very varied, although the most common is "likes contests". In this type of contest, users opt for the prizes you offer if they like your image.

However, competitions that require tracking different accounts are becoming more common. This, combined with a specific hashtag, can give a boost to your profile.

In addition, integrating the platform into your marketing campaigns can usually help you gain followers on Instagram. It's a chance to connect offline and online experience.

For example, Taco Bell announced that they would start serving breakfast, and they did it using Instagram. They showed the product, attracting public attention. However, you can find many other uses. Use the social network to cover live events, such as conferences, meetings, promotions in the store. Everything works. And the more you humanize your profile, the better.

Measure Your Actions
It's important that you measure the actions of your marketing campaigns on Instagram. This is the only way to evaluate the effectiveness of every content you have published in this social network. You'll know which content works best and which video or image is most popular among users. You will know then that you will have to continue to use it.